Hello Everyone,
I am so excited to get this first newsletter out and about! You know those things that you say you'll do, but then you never do, and they stay on the back of your mind, for days, weeks, months and for me.. years! I've definitely relied a lot on social media, on talking to you all before or after classes or sending you normal emails, but times have been changing and we must adapt to be able to expand.
Which brings me into checking in with you. How have you been adapting through this crazy year? I feel like we really haven't been given much of a choice and it's up to us to let us affect us by becoming consumed by the fear and anxiety going around, OR take this as an opportunity. Believe me I know it's easier said than done, but we do have control over that choice. Like many, I had big 2020 plans and for now it's all been redirected, and with that I've been oscillating between the frustration of not being where I was supposed to doing what I was meant to… to a deep feeling of gratitude for having had the freedom to be with my family when it was needed and to now come back to a welcoming home in Costa Rica with amazing support and love by my side.
We are in a transition like no other. Yet something remains the same. The practice now more than ever is here to support all of us. The power that we have to remain aware, to surrender to this flow of uncertainty, to overcome the obstacles with trust and faith, to remember what has true meaning in our lives, to act out of love, to go inwards to our center, to spread our light and to be there for each other, and to give Mother Earth a well deserved break… we still have that POWER within.
We are going through what will be history one day, and all I can say is to take it day by day. Stay present with what you are going through and feeling, and remember the beauty of impermanence. This too shall pass. So, let's use this gift of time to do all the little things we've been wanting to do.
Here are some ideas that have helped me:
Get on your mat!
Read a book
Try a new recipe to cook or bake some cookies!
FaceTime an old friend
Do an online course/offering
Get back into your fitness routine
Paint or make some jewelry (something artsy with your hands)
Try meditating or yoga nidra every day
Support small business
Do journaling
Sing & Dance
Reach out for help or reach out to support a friend or family member in need
Stop scrolling, and don't even start binge watching :-p
Make some homemade spa products and have a beauty day
Learn a new skill (from using photoshop, to doing handstands, to a new language, you chose!)
Create your offering (yes share with us what you are passionate about, we want to see and hear you!)
Do something you enjoyed doing when you were a kid
Anyways there are endless options to keep ourselves "sane" and use this time for the best. Hopefully we won't have to be in lockdown for long and might as well use the time to expand consciousness and our creative self which has been forgotten in this rushed, fast paced mode we've been on. It's time to shift from so much Yang ( action, go go mode, wanting control ) to the Yin ( observation, exploration, surrender ). And remember that by healing and working on yourself you are spreading that special work into the collective's energy.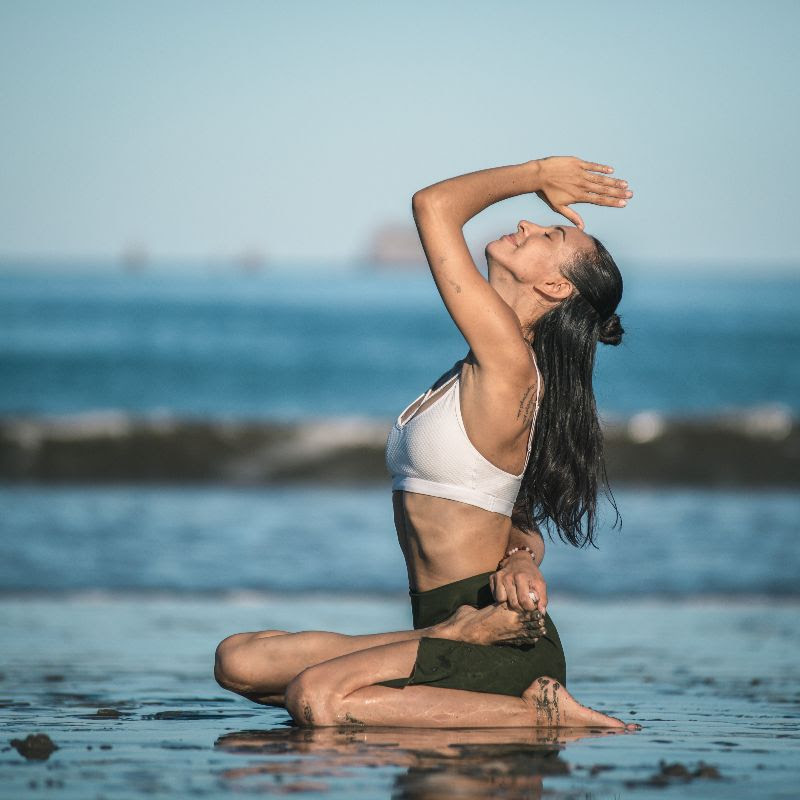 I've been obsessing about Yoga Nidra for about a year now. I always found it hard to meditate because it requires focus and I'd always end up slacking on my not so continuous practice. But with Yoga Nidra it's different, because all you have to do is lay down, relax your whole body and follow the recording, which is essentially a guided relaxation, but it takes you into an in between of being fully awake and deeply sleep, and it is a space where a lot of the subconscious healing and magic can happen. They call it the Yogic Sleep, and personally it's helped me a lot for managing anxiety and for coming back to my essential nature, which is  at peace, loving and full of light.  So give it a try if you haven't! I know some of you are already hooked so keep it up.
Please download this free 25 mins Yoga Nidra meditation I recorded for you as a gift.
I've also been getting out of my comfort zone and finally stepping into the online world. So now while I can I'm sharing some Live Instagram Yoga practices. I will start properly recording videos and uploading them soon, you'll be the first to know when the first one is out and these will be also for free to begin with.
My next IG Live will be:
(It will be up for 24 hrs on my profile stories button, so you have time to do them)
Friday 5 PM Costa Rica (GMT-6)/ Saturday 7 AM Malaysia (GMT +8) – Yin Yoga & Relaxation
Saturday 7:30 PM Costa Rica/ Sunday 9:30 AM Malaysia – Dynamic Vinyasa Flow, this will  be live on The Flow Studio's IG
Sunday 10 AM Costa Rica/ Available all Monday in Malaysia- Vinyasa Flow
Tuesday 10 AM Costa Rica/ Available all Wednesday in Malaysia- Vinyasa Flow
Click the Instagram icon below to follow and share it with your friends
I'd love to hear how you have been, any feedback, questions, requests for classes & videos, or to say hi! Simply press the reply button to this email . Please know that I am here to support you in any way I possibly can. We are in this together.
Much Love & Light,
Clau
 
"May all beings everywhere be happy and free, and may my thoughts, words, and actions contribute in some way to happiness and freedom for all."