Radical Self-care:
a 21-day program to nourish and support your body, mind & soul
Welcome to our revamped 2020 self-care challenge: Radical Self- Care. A 21-day program to nourish and support your body, mind & soul.
This is a 21-day program that takes 20 mins of your day every day to give you the tools, support, and guidance to transform the way you care for yourself.
This program provides practices that will nourish and support all aspects of your life (body, mind & soul). We believe that when you create a practice in which you do the things that replenish you and support your daily life, you can continue to show up day-to-day as the best version of YOU!
Nowadays we tend to live a fast-paced, busy life that requires us to be on top of our game, and when we do have time for ourselves we find it hard to pause. We have those days where we feel completely drained and exhausted, either hitting the edge of burn out or simply losing interest and drive to do the things that give us purpose and passion. Sound familiar?
Some people can think of self-care as selfish or narcissistic, but through this course, you will realize that it's the complete opposite. In order to give from a space of generosity and love, we have to be able to love and nurture ourselves so we don't feel depleted or expect something in return. Radical self-care is the practice built on the fundamental beliefs that you belong on this planet, that you are a precious resource, that you have a right to health and peace of mind, and that the whole world is better for you having it.
For a long time, we both practiced self-care practices here and there… Especially when we were feeling completely exhausted and depleted, but over the years we have found that consistency is key and no matter what, our self- care routine comes first. This Radical Self- Care program is an opportunity to commit to yourself.
To be able to see and feel the benefits of these self -care practices, it requires discipline, self-study, and devotion. The Self-awareness practices that you will learn or strengthen in this program, can help us to acknowledge, accept, and tolerate stress. As well as help you deal with fatigue, sleep problems, anxiety, depression, trouble with relationships, and the uncertainty of life.
As stated in Psych Central: Self-care is any activity that we do deliberately in order to take care of our mental, emotional, and physical health. Are you ready?
First 5 sign-ups for $99!
Full investment $111
~Due to the nature of this course, all sales are final~
This challenge is for you if you:
Feel stressed, fatigued, depleted, or near burn-out
Long for a deeper connection to yourself and your purpose
Want to create more discipline and structure in your daily life
Feel that self-care is selfish
Have problems sleeping, anxiety or depression
Don't currently have a self-care practice that connects you to your body, mind, and soul (or you'd like to strengthen yours)
Desire to be fulfilled in all areas of your life
Are ready to take action.
If you agree with 1 or more of these statements (even a little bit), this program is for you!
Open to Men & Women ages 18+
6 daily practices of 20 mins each per week in audio or video format that include: Meditation, Yoga, Journaling, Mindful Eating, Practical Living and Yoga Nidra
4 group live coaching/guidance calls with Amanda & Claudia via Zoom (1 per week for 40-60 mins)
An accountability partner
You get to keep all the practices to revisit any time throughout the year and support you along with your self-care journey
Weekly Overview
One topic per day that develops over three weeks:
Mindful Monday: Mindful Eating
Peaceful Tuesday: Morning Guided Meditation
Yogi Wednesday: Yoga time (Beginner-friendly)
Awaken Thursday: Practical Living
Creative Friday: Journaling
Playful Saturday: Self date
Soulful Sunday: Yoga Nidra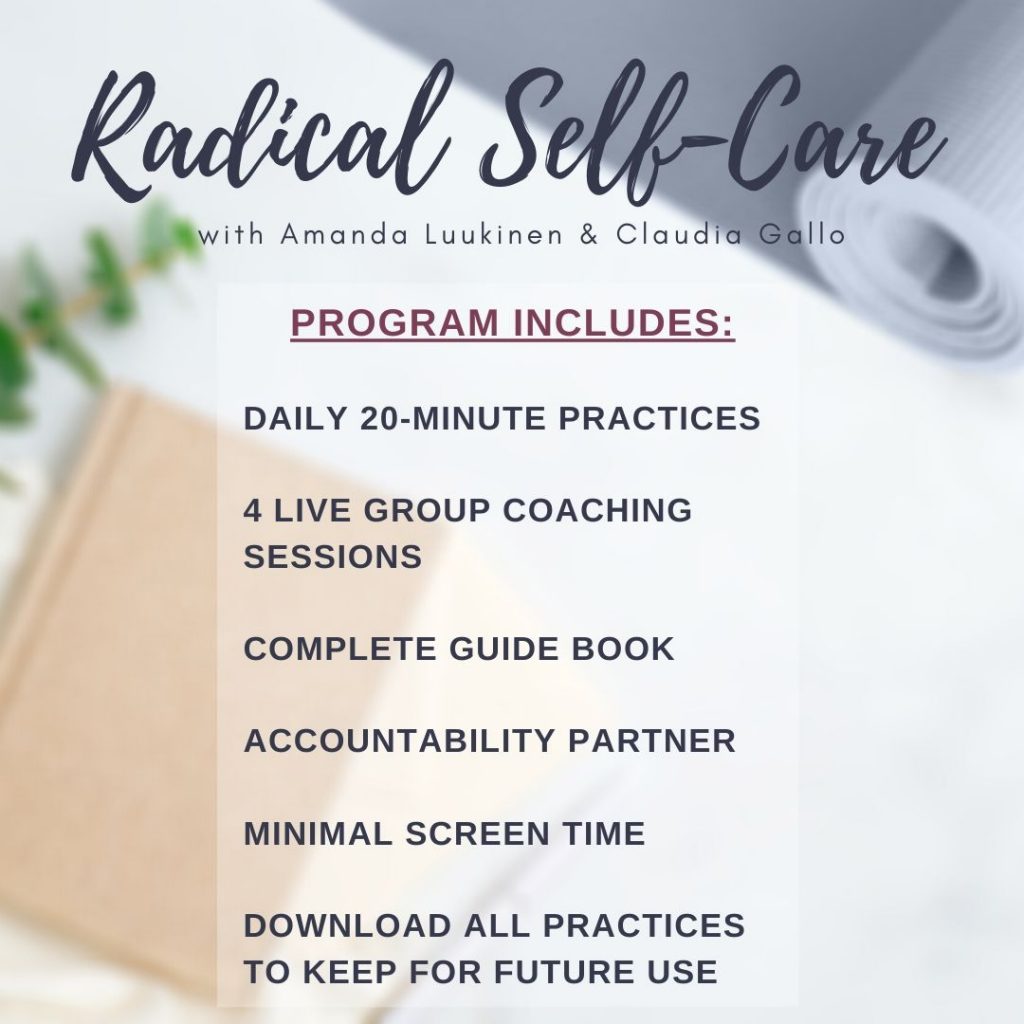 Week 1: Body
Connect to the physical body, inside and out
Discover breath awareness
Get more in tune with your physical energy
Become more mindful of what you're putting into your body and what your daily habits are.
Week 2: Mind
Connect to emotions, thought patterns, and limiting beliefs.
Become aware of your current mindset
Create healthy boundaries in daily life
Go deeper into the meditation practice to become more of the observer and less reactive.
Week 3: Soul
Explore a connection to something beyond yourself
Cultivate a connection to your purpose
Awaken your desires
Develop your discernment
Discover how you can show up in the world with intention.
I was proud of myself for completing the challenge. That was due to the accessibility, voice qualities, reassuring comments, and expertise of both teachers. Thank you Amanda and Claudia!
-X
Thank you for creating this program! Amanda, you have a soothing voice for the meditation and I love how you introduced preventative care, and Claudia, I love the yoga nidra, thank you for adding it into the program!
-Y