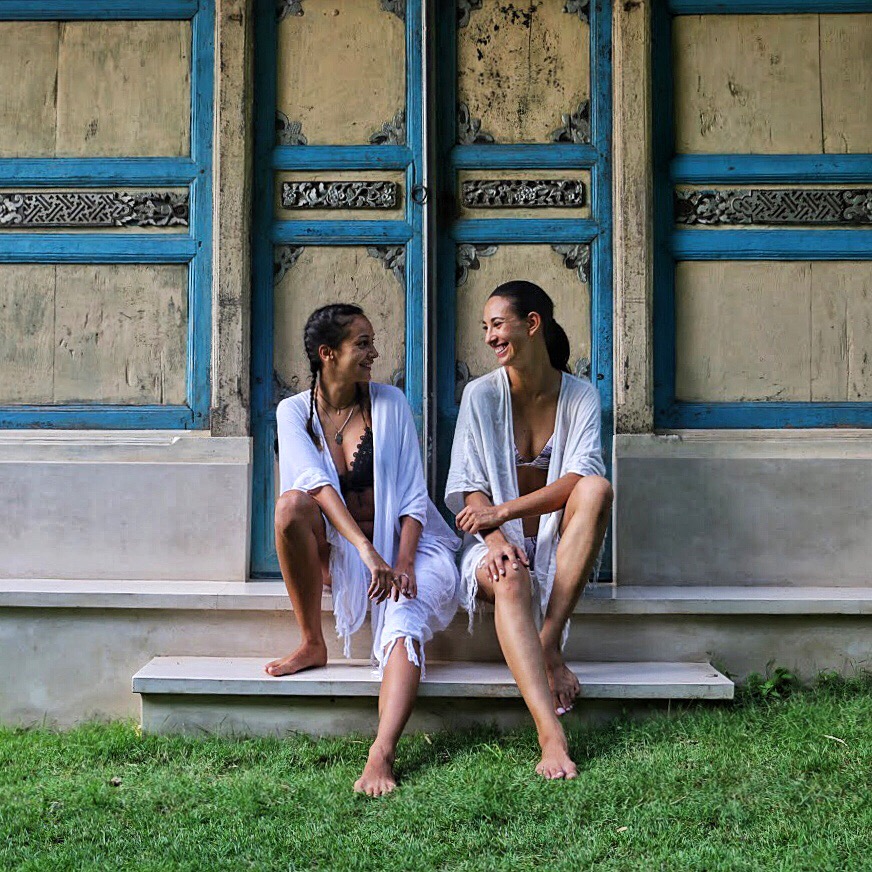 We are delighted to officially welcome you to our Yoga retreat hosted by Nikkii Blapp and Claudia Gallo.
Immerse yourself in the beauty of Ubud, Bali. From visiting temples, hiking volcanos and deepening your yoga practice and hearts desires, this retreat will be the perfect balance between stepping into your adventurous self and going deeper into your yoga practice and knowledge of self as you dive into an extraordinary world where the focus is all about the rejuvenation and replenishment of your mind, body, soul and senses. We are inviting you on a truly transformational journey, carefully tailored by Claudia & Nikkii from their own personal experience, which will allow you to reconnect with the very essence of yourself and all that is important to you.
This retreat, combined with a group of like-minded people from all over the world that will support, inspire and enjoy this journey with you, is meant to awaken your inner self and appreciation of this opportunity called life, your canvas.
All levels are welcomed. Whether you're new to yoga or an advanced yogi or yoga instructor. We welcome anyone who's looking to experience the benefits of living a mindful, loving and peaceful life through yoga, meditation, pranayama, Ayurveda, healing and self- care practices.
On this journey you will receive and learn:
Daily Yoga practice – asana (physical postures such as; vinyasa flow, hatha and yin classes), meditation, pranayama, mantra, and wellness practices to assist you in establishing a long-term personal practice supporting physical, emotional and spiritual growth.
Ayurvedic and elemental wisdom to support balance in the body and mind.
Rituals for self-care and spiritual connection
How to connect to your life's purpose, to set intentions, create life goals, inspire personal growth and transformation
Self-Remembering practices to deepen your connection to the self, to move towards alignment with your True Nature, and to consciously create the life you want
Adventures such as hiking that will reconnect you with nature, and joy for life!
What's included:
2 Yoga classes per day taught by Claudia and Nikkii
Visit and blessing at Water Temple
Hiking to Batur Volcano day trip
Cacao ceremony and Sound Healing at Pyramids of CHI
5 night stay at Blue Karma Resort
All meals (breakfast, lunch and dinner) and tea time
Complimentary shared shuttle service to Ubud Center every two hours from 10.00 AM until 10.00 PM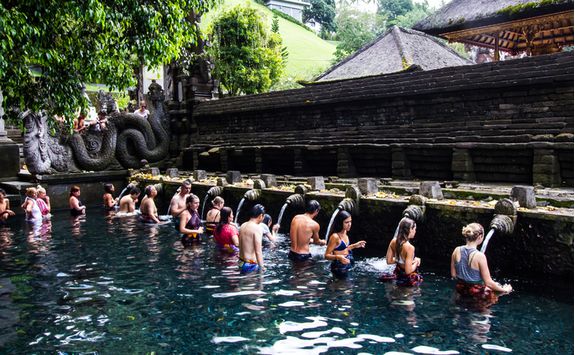 NOT Included:
Flight tickets
Travel insurance
Aiport transfer (we can book it for you and arrange to share)
Any meals outside of Blue Karma resort
Spa tretaments & Massages
Reiki sessions
Investment:
Early Bird Rate (Pay in full by November 10th)
Single: $1490
Double or Twin: $1099
After November 10th:
Single: $1690
Double: $1299
A deposit of 400$ is required to save your spot.
PayPal to: claudiagalloyoga@gmail.com or see more options below.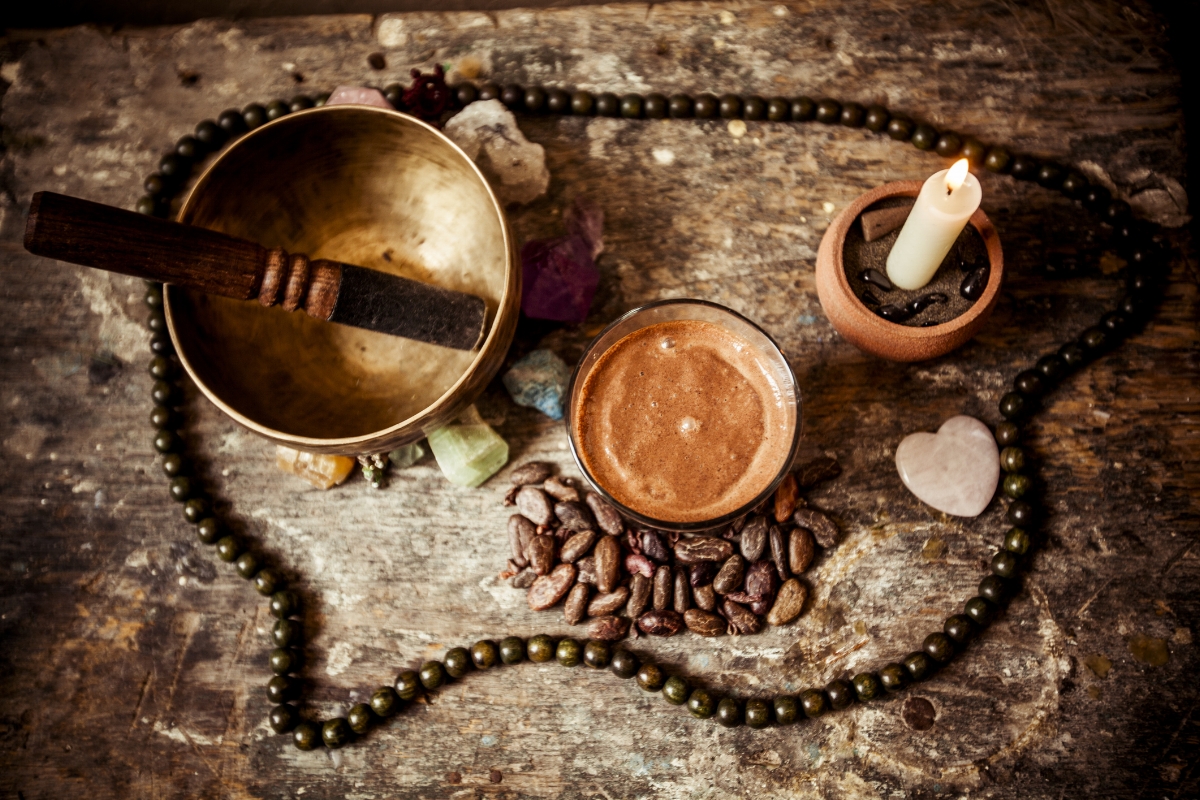 Friday 10th- Day One- Arrival:
Airport pick ups
2 pm Check in and welcome drink
4 pm Retreat Opening Circle Ritual
5 pm- 6:30 pm Yin Yang- Grounding yoga practice (Clau & Nikkii)
7:30 pm Group Dinner
9 pm Quiet time, prepare for rest
Saturday 11th- Day 2
7 am Coffee and tea available
7:30 am- 9 am Vinyasa Yoga Practice (Clau)
9 am- 10 am Breakfast
10 am- 12 pm Free time, enjoy the resort or explore Ubud town
12 pm- 2 pm Lunch
2 pm- 4 pm Free time – Ayurveda & Reiki sessions available*
5 pm- 6:30 pm Yin Yoga & Sound Bath (Nikkii)
7:30 pm Dinner
9 pm Quiet time, prepare for rest
Sunday 12th – Day 3
7 am Coffee and tea available
7:00 am- 8:30 am Hatha Yoga Practice (Nikkii)
8:30- 9 am Breakfast
9:30 Departure to Water Temple
10 am- 1pm Water Temple Blessing Tour
1:30 pm Lunch
2 pm- 4 pm Free time – Ayurveda & Reiki sessions available
5 pm- 7 pm Yoga Flow & Creativity workshop 
7:30 pm Dinner
9 pm Quiet time, prepare for rest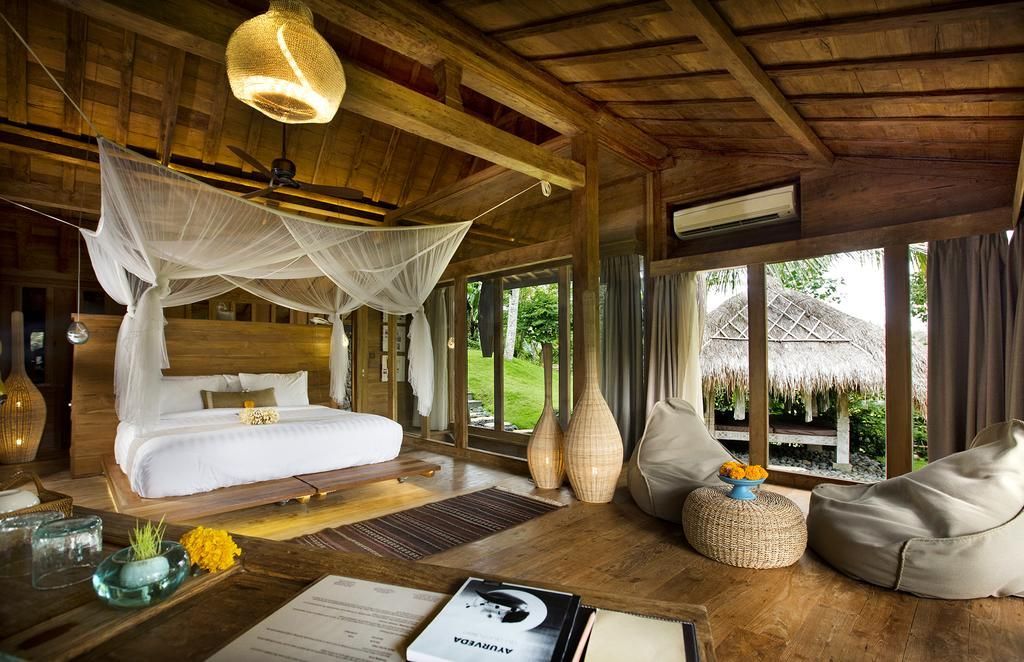 Monday 13th – Day 4
2 am: Pick up at the hotel
3.30am: Start to hike Mount Batur
5.45am: Arrive at the summit
6am: Enjoy sunrise and light breakfast. Sunrise Meditation
7am: Explore the main crater
8.30am: Arrive back at the base of Mount Batu
9.30am: Visit coffee plantation
12.00pm: Arrive back at hotel
12 pm Lunch
1 pm – 5 pm: Rest, chill, enjoy the resort
5- 7 pm Yin Yoga & Pranayama (Clau)
7 pm Dinner
9 pm Quiet time, prepare for rest
Tuesday 14th – Day 5
7 am Coffee and tea available
7:30- 9 am Anusara Yoga Practice (Nikkii)
9:30 am Breakfast
9:30 am – 5 pm: Free time, lunch at resort or ubud town
5 pm Walk over to Pyramids of CHI
6 pm: Cacao Ceremony & Sound Healing by pyramids of CHI
9 pm Back to resort for light dinner
10 pm Quiet time, prepare for rest
Wednesday 15th- Day 6- Last Day
7:30 am – 9 am Yoga practice and closing of retreat (Clau & Nikkii)
9:30 Brunch
11 am Check out
Airport transfers
*Itinerary subject to change
* Ayurveda, Reiki, private sound baths & Massages sessions not included, please let us know your preferable day and time for these if interested and we will send over the pricing.
*You can always head over to Ubud town for your lunch or dinners (those won't be included, only meals at the resort are included)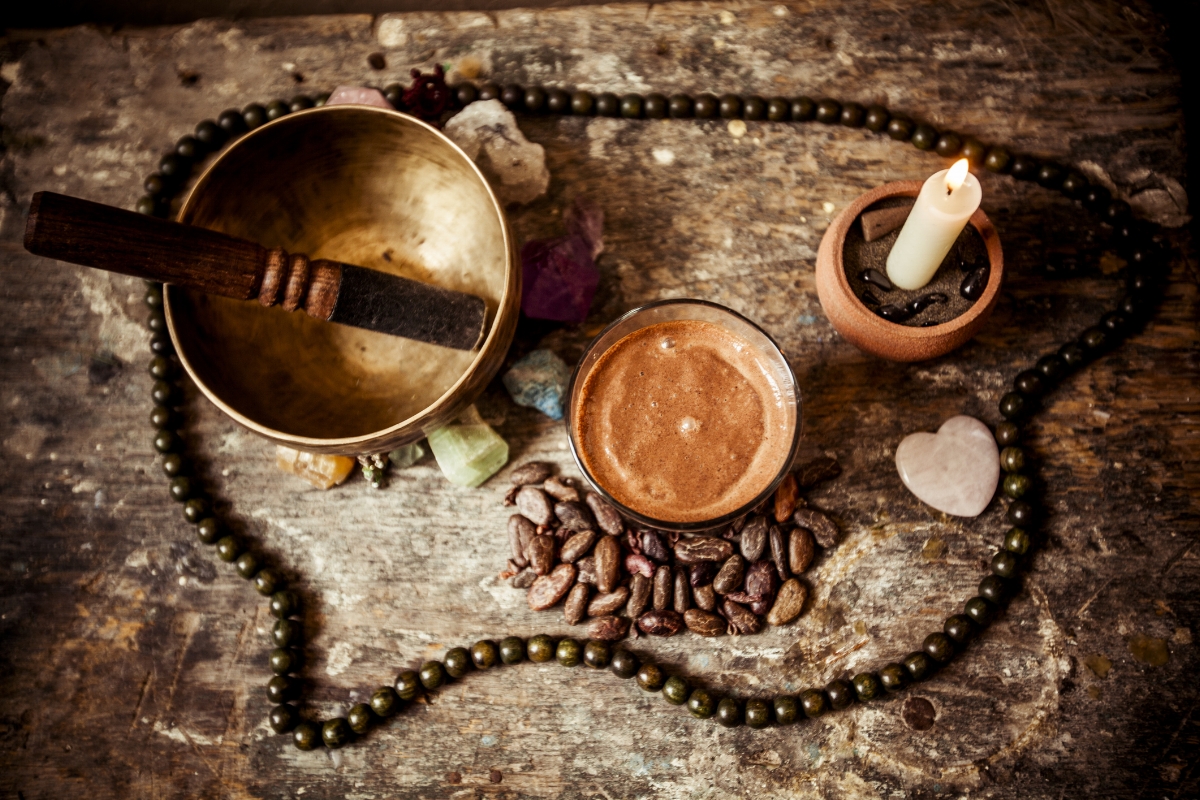 About the activities:
Sacred Holy Water Ceremony: Sebatu waterfalls is roughly 20 mins north of Ubud city centre, and considered to be one of the holiest places in Bali. Upon arrival, we will walk down steps covered by jungle foliage to reach the 1st place of prayer at the temple of death called Pura Dalem Pingit, asking for blessings by the temple's guardians. A second prayer is required next at Pura Kusi temple. We will give the gods our offerings called kwangen, made of young coconut leaves containing fresh and colourful flowers and Chinese coins. After praying at the two temples we will perform a final ritual near the entrance of the holy waterfall before plunging ourselves under purification, allowing its healing and cleansing qualities to pour over our heads and bodies.
Pyramid Sound Transformation Bath: Pyramids of Chi is one of the most unique meditation and healing spaces where we will be immersed in sacred ethereal and primal sounds, rhythms, beats and vibrations of ancient instruments such as; gongs, drums, feathers and didgeridoo which creates a peaceful atmosphere to reduce 'beta-waves' brain waves that dominate aroused conscious thoughts, and increase the intensity of 'theta-waves' within the brain, which introduces deep relaxation and increased awareness of inner-self.
Mount Batur: Get ready for an amazing experience trekking on this active volcano. Hike your way up, then stand atop, the ancient Mount Batur volcano and watch the sun come up over the sea. Feel the adrenaline kick in as you see the sky turn from black to inky blue, from pink to orange, revealing the expanse of the volcanic valley. The trek will need 1.5 to 2 hours to climb the mountain until first peaks, we will have professional local guides accompany us during the trek. The slope of the volcano is covered by black lava which continues deep into the caldera. From the top of the mountain you will witness an amazing sunrise, Batur lake and panorama Mt Bromo on eastern part of the Island. During this time a light breakfast will be served.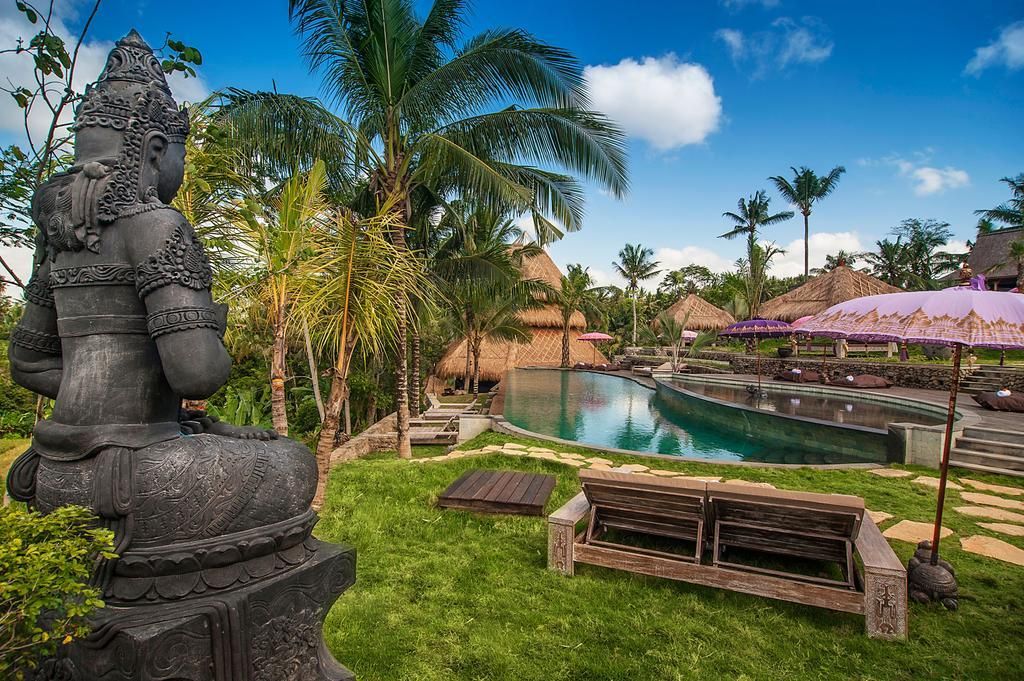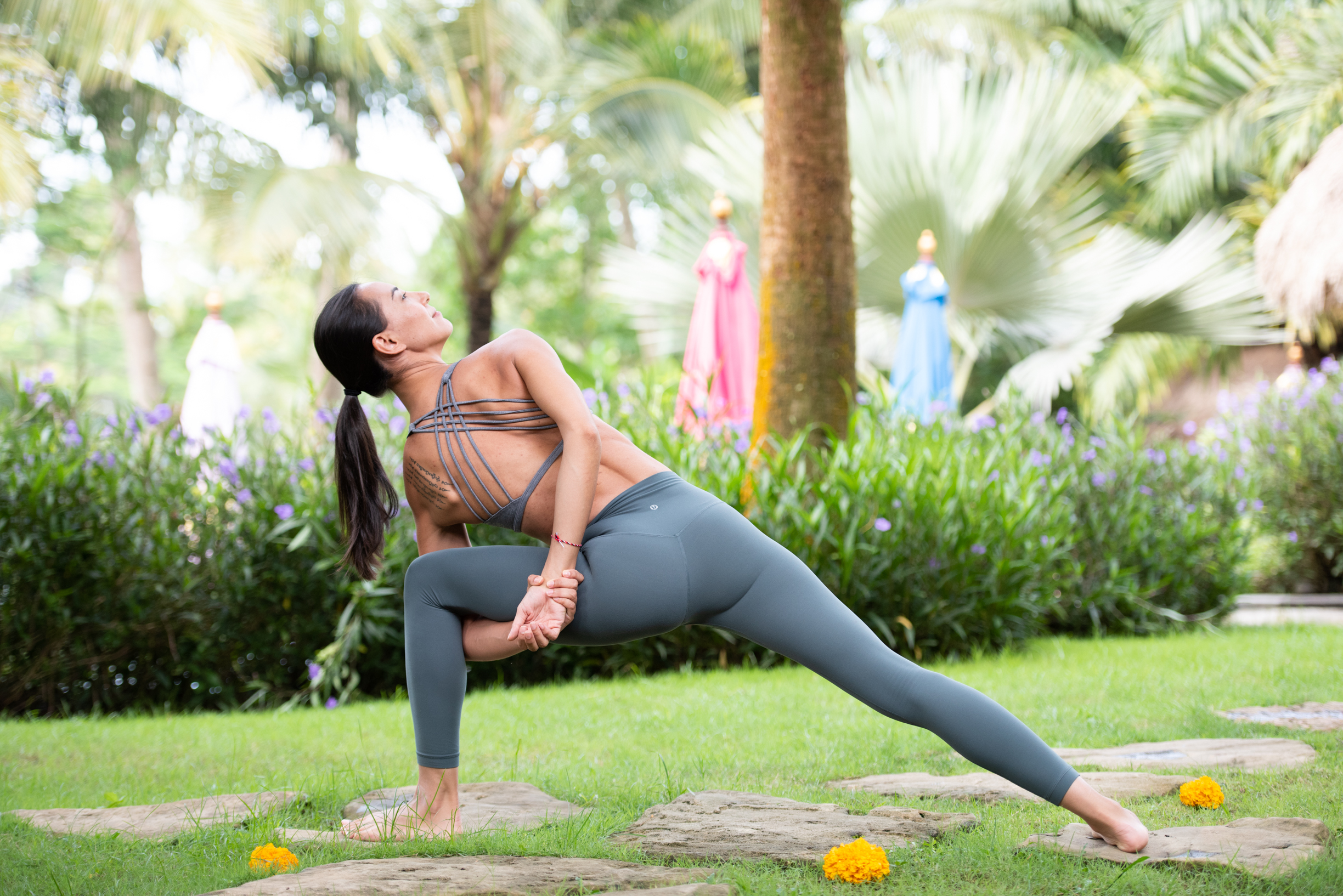 Your stay in Bali:
The surrounding Ubud District's rainforest and terraced rice paddies, dotted with Hindu temples and shrines, are among Bali's most famous landscapes. Ubud is many ways Bali's cultural heart. Pure seductive nature where traditional Balinese culture imbues every waking moment, where colourful offerings adorn the streets and where the hypnotic strains of gamelan are an ever-present soundtrack to everyday life. Ubud offers relaxation, rejuvenation and the most magical get away of your life.
Quick to smile and easy to laugh, the Balinese are experts at living a life of joy and fulfillment. They live in the moment, neither regretting past events nor vexing on what has yet to happen. Perhaps nowhere else on Earth lives a better example of truly living in a joyful state than in Bali. Life here is interwoven with spirituality, delight in daily rituals and appreciation for all surrounding them.
Hidden in the hillside at a place where heaven and earth blissfully meet, lies Blue Karmas Nestling Escape. The suites have been carefully crafted from Javanese wood, making your stay ethnic and luxurious, in true Blue Karma style. Each suite is individual, yet all as charming as the next. With views of the tropical jungle, abundant rice paddies, and a stunning infinity pool; your stay will be like no other.
Your retreat leaders:
Both Claudia and Nikkii are the real wanderlusts. They've lived everywhere and nowhere. Always ready to pack up and move to an exciting new destination and starting over is a natural process in which they allow themselves to completely surrender and let the universe guide them along. They met in Bali whilst filming for a yoga application and instantly connected. Not just because they are both Leos, but due to their vision and ideas they had crafted, that they wanted to share with the world. Connecting and sharing with others through yoga, wellness, Ayurveda and healing energies.
About Claudia:
Originally from San Jose in Costa Rica, Claudia has spent the last ten years travelling and working around the world. She is now based mostly in Kuala Lumpur Malaysia and goes around the world leading her year-round retreats. She has deepened her practice traveling around Southeast Asia and USA taking workshops and other trainings continuously.
Claudia did her first 200 hrs Teacher training in India at Himalaya Yoga Valley in 2011 and her 300 hrs was completed in 2017 in New York at Yoga Works. She also has a vast interest in healing and restorative practices, which lead her into a Yin Yoga training and a Reiki course.
With a background in sports and adventure, Claudia's energetic yet serene personality makes for well-rounded classes that focus on the importance of the breath, calming of the mind and the connection to the subtle body, always drawing you into the present moment, which aligns well with her life motto: Be here now. 
 Each of Claudia's classes are different and challenging yet always very grounding. She pays special attention to proper alignment and her cues are clear for both beginners and advanced practitioners. Claudia will always make you feel comfortable, at ease and inspired with her down to earth personality. Her classes flow with grace and her voice nurtures you to places deep within.  Her events, workshops and retreats reflect the love and passion she has for the practice and Claudia is able to transmit that and touch the practitioner's hearts to look within.
Committed to sharing wellness in an integrative and functional way and the deeper meanings of the yoga traditions, Claudia finds a way to take you into a peaceful mind and creative "pura vida" living.
About Nikkii:
Nikkii grew up in both Sydney & Zürich. During her time working as a Financial Controller in Switzerland she got her first Teacher training certification. For a few years she juggled between working for a tech company in Singapore and Sydney and teaching private yoga classes. At the end of 2018, she quit her job and decided that she wanted to invest all her time into yoga. She is now a certified Anusara, Yin and Ayu-yog (Ayurveda & Yoga) teacher, making her a 500RYT. Trained to guide a complete holistic and integrative yoga practice including yoga asana, pranayama, kriyas, mantra and meditation.
Nikkii also studied nutrition and with her love for Ayurveda is able to create individualized Yoga programs tailored for specific needs and desires with the knowledge to create yoga classes based on the science of Ayurveda and tailor classes to the season and the Ayurvedic constitution of each person.
Lately, Nikkii became a Reiki Master and has dived into sound therapy working with crystal/ tibetan bowls, creating sound healing workshops around Switzerland, specializing in the subtle art and energies. She has navigated her own winding journey towards health finding creative expression, sound and movement to be the most potent medicine of all.
Nikkii now teaches in multiple yoga studios in Zurich Switzerland. She loves to help individuals grow and improve their quality of life, by bringing balance to the body, mind, spirit and sense.
To register:
Pay the deposit or full amount through PayPal to the email: claudiagalloyoga@gmail.com
Venmo to : @AdventureYogaRT
or contact us for bank transfer options.
Cancellation Policy:
The 400$ per person deposit is non-refundable and non-transferable.

Cancellations on or before December 5

th

, 2019: You will forfeit your deposit of $400 plus a cancellation of $100. The remainder of your payment will be refunded to you.

Cancellations on or after December 6

th

, 2019: You will forfeit ALL money rendered

Please do not make travel arrangements before receiving confirmation of registration
Any question please do not hesitate to contact Claudia or Nikkii directly via Email.
claudiagalloyoga@gmail.com / info@nikkiiblapp.com
We are looking forward to meeting you all.
Love and light,
Claudia & Nikkii